Marine Claims: Public Adjusters Can Make a Difference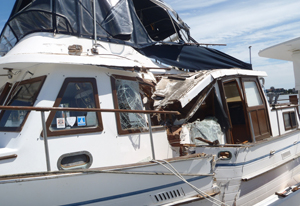 When tornadoes struck Guntersville, Alabama, the Alred Marina lay directly in their path. After the outbreak, marina owner Russ Cranford found that several docks were completely destroyed and 20 boats were damaged. In seconds, the tornadoes had caused $2.7 million in damage. After struggling with his insurance company, and finding that the costs of the repairs were undervalued in their initial settlement offer, Cranford decided that it was time to hire a professional loss consultant to represent his interests. So Cranford turned to Keith Hayman of Goodman-Gable-Gould/Adjusters International to assist him in getting a full and fair settlement from his insurance claim.
The story of Alred Marina's recovery, and the impact that hiring a public adjuster had on their claim, is highlighted in Boating Industry magazine in "Prepare for the Inconceivable."
…The initial insurance settlement offer was between $1.5 and $1.6 million. Upon hiring Keith Hayman, a catastrophe team specialist at GGG/Adjusters International, Cranford no longer had to deal with his insurance company personally. Hayman handled all communication from that point as he negotiated a better offer for the business.

The hire paid off, as Hayman was able to increase the final settlement by approximately $750,000. That additional money allowed Alred to rebuild its docks and begin a marketing campaign to attract additional customers to its new docks…
Russ Cranford
Owner, Alred Marina
For the full article "Prepare for the Inconceivable," visit the Boating Industry magazine website. Boating Industry magazine is a monthly publication targeting all sectors of the marine trade industry.
---
Resources
Listen to our podcast on "Expecting the Unexpected: Surviving Disasters" for tips from our experts:
For additional information, visit:
---
If you're suffering from a marine claim, we can help! Call us at 800.858.3900 or fill out the form below: